2020 Statistics
FIRE
EMS
PD
Jan
1
1
1
Feb
Mar
Apr
May
Jun
Jul
Aug
Sep
Oct
Nov
Dec
Total
1
1
1
2019 Statistics
FD
EMS
PD
Jan
249
1242
2179
Feb
264
1128
1873
Mar
205
1124
2226
Apr
294
1087
2148
May
309
1149
2339
Jun
281
1174
2490
Jul
316
1328
2648
Aug
338
1265
2583
Sep
260
1147
2534
Oct
363
1216
2243
Nov
239
1056
1969
Dec
278
1185
2135
Total
3396
14101
27367
2018 Statistics
FIRE
EMS
POL
Jan
275
1369
2402
Feb
223
1178
2402
Mar
215
1323
2302
Apr
301
1309
2196
May
340
1269
2669
Jun
280
1351
2494
Jul
372
1403
2865
Aug
264
1322
2716
Sep
426
1239
2520
Oct
354
1427
2797
Nov
257
1279
2524
Dec
194
1147
2196
Total
3501
15616
30083
2017 Statistics
FD
EMS
PD
Jan
216
1446
2163
Feb
229
1232
2070
Mar
471
1,501
2,253
Apr
405
1,307
2,428
May
583
1,565
2,645
Jun
257
1,365
2,367
Jul
319
1,387
2,830
Aug
259
1,254
2,709
Sep
275
1,297
2,490
Oct
266
1,298
2,482
Nov
181
1,170
2,276
Dec
210
1295
2371
Total
3671
3982
6622
Past Statistics
FIRE
EMS
POL
2016
2177
14655
28344
2015
1877
14416
27367
2014
1767
13850
25754
2013
1935
12813
25933
2012
2022
12357
29861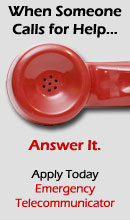 Visitors Today:

Visitors Since
June 9, 2006:


Subscribe to Text and Email Alerts
911 Dispatcher Open Interviews
By Member Jeremy Ruffner
May 12, 2022
The 911 Center will host open Interviews Monday May 16th and Tuesday May 17th. Interviews will be conducted 10am to 3pm both days. If you require a different time, please schedule an interview by contacting the 911 Coordinator. 814-765-5357 or via ema at info@clearfield911.com
Interviews will be at the 911 Center located at 911 Leonard Street, Clearfield PA 16830.
These positions are for FULL TIME 911 Dispatchers!
Come be a part of our team!
911 Dispatchers receive family paid HealthCare, Paid Time off, and County Pension. 911 Dispatchers work a 12 Hour fixed schedule with overtime opportunities.
Applicants must be team players, with a clean criminal background.