2017 Statistics
FD
EMS
PD
Jan
216
1446
2163
Feb
229
1232
2070
Mar
471
1,501
2,253
Apr
405
1,307
2,428
May
583
1,565
2,645
Jun
257
1,365
2,367
Jul
319
1,387
2,830
Aug
259
1,254
2,709
Sep
275
1,297
2,490
Oct
266
1,298
2,482
Nov
181
1,170
2,276
Dec
210
1295
2371
2016 Statistics
FD
EMS
PD
Jan
114
1203
2159
Feb
99
1135
2146
Mar
107
1155
2321
Apr
183
1144
2492
May
150
1251
2467
Jun
336
1167
2651
Jul
204
1190
2605
Aug
234
1293
2679
Sep
196
1246
2378
Oct
228
1238
2317
Nov
155
1244
1936
Dec
171
1389
2193
Total
2177
14655
28344
2015 Statstics
FD
EMS
PD
Jan
139
1247
2179
Feb
111
1151
1873
Mar
121
1339
2226
Apr
137
1093
2148
May
205
1097
2339
Jun
265
1239
2490
Jul
169
1259
2648
Aug
147
1225
2583
Sep
161
1234
2534
Oct
185
1244
2243
Nov
137
1102
1969
Dec
100
1186
2135
Total
1877
14416
27367
2014 Statistics
FIRE
EMS
POL
Jan
146
1130
1887
Feb
120
1087
1795
Mar
142
1104
2067
Apr
173
1024
2070
May
162
1149
2140
Jun
173
1090
2278
Jul
154
1257
2503
Aug
143
1204
2483
Sep
105
1160
2135
Oct
151
1213
2102
Nov
117
1205
2301
Dec
0
0
0
Total
1586
12623
23761
Past Statistics
FIRE
EMS
POL
2013
1935
12813
25933
2012
2022
12357
29861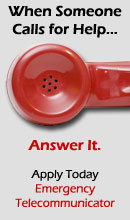 Visitors Today:

Visitors Since
June 9, 2006:


Subscribe to Text and Email Alerts
Join our Team, Apply to be a 911 Dispatcher!
By 911 Coordinator Jeremy Ruffner
August 19, 2016
Clearfield County Dept. of Emergency Services is currently accepting applications for 911 Dispatchers. 36 Hours per week average. Starting wage is 11.25 per hour. Interested candidates should apply online at www.clearfield911.com. 911 Dispatchers serve as a vital link between callers in need and emergency personnel. Experience in the Fire, EMS, or Police field is a plus but not required. Great communication skills, basic computer knowledge and the ability to multitask are strongly encouraged. Candidates must be at least 18 years of age, have a High School Diploma or GED, and a valid driver's license. Candidates must have a clean criminal history. Clearfield County is an Equal Opportunity Employer.
Click Here to apply! http://www.clearfield911.com/public/form/recruit.cfm